Brian Nguyen: HuffPost Workouts: Brik Fitness's Empowerment Playlist Featured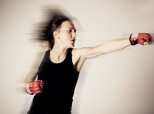 Authors: huffingtonpost fitness
Here at Brik Fitness, one of our core values is to inspire... through FUN! One of the most effective tools? Great music! A great playlist truly allows our clients to unfold, get into a rhythm and just flow with exercise!
There are some fascinating studies that document the important role music can have in getting a better workout. The Sport Journal published the results of a study that showed music can actually change one's perception of effort and fatigue during moderate exercise: "Positive aspects of mood such as vigor and happiness become heightened, while negative aspects such as tension, depression, and anger are assuaged."[1] When the effort is maximal, music actually affects how the brain perceives a workout's "fun factor." The mind actually reshapes its perception of fatigue, making even the toughest workout feel more enjoyable.
The songs we have compiled are chosen for several reasons. We tend to choose songs that are upbeat and popular, however, empowerment comes first! None of our clients come to the gym to work out alone. We are semi-private and group training only, so it's awesome to see the clients keep each other motivated by quoting songs such as Kelly Clarkson's "Stronger (What Doesn't Kill You)." We also like to keep our clients involved, and ask them to bring in playlists that they enjoy! Ultimately, it's always about keeping our clients happy, involved and empowered. We hope you enjoy your workout!
"Stronger (What Doesn't Kill You)" -- Kelly Clarkson
"Call Me Maybe" -- Carly Rae Jepsen
"We Are Young" -- Fun.
"Somebody That I Used to Know" -- Gotye
"What Makes You Beautiful" -- One Direction
"Glad You Came" -- The Wanted
"Brokenhearted" -- Karmin
"Good Feeling" -- Flo Rida
"Starships" -- Nicki Minaj
"Lights" -- Ellie Goulding
"Turn Up the Music" -- Chris Brown
"Blackout" -- Breathe Carolina
"5 O'Clock" -- T-Pain
"Wild Ones" -- Flo Rida
"Titanium" -- David Guetta & Sia
"Levels" -- Avicii
"Boyfriend" -- Justin Bieber
"You Da One" -- Rihanna
"Princess of China" -- Coldplay & Rihanna
"Rumour Has It" -- Adele
"Talk That Talk" -- Rihanna
"Marry the Night" -- Lady GaGa
"So Good" -- B.o.B.
"Feel So Close" -- Calvin Harris
"Dance Again" -- Jennifer Lopez
"Live My Life" -- Far East Movement
"Part of Me" -- Katy Perry
For more from HuffPost Workouts, click here.
References:
[1] Bishop, D. T., Karageorghis, C. I., & Loizou, G. (2007). A grounded theory of young tennis players' use of music to manipulate emotional state. Journal of Sport & Exercise Psychology, 29, 584-607.
"; var coords = [-5, -72]; // display fb-bubble FloatingPrompt.embed(this, html, undefined, 'top', {fp_intersects:1, timeout_remove:2000,ignore_arrow: true, width:236, add_xy:coords, class_name: 'clear-overlay'}); });
back to top