Greek Marinated Chicken Featured
Need something easy and flavorful to throw on the grill this weekend? This is it.
The marinade (similar to what I used for this Chicken Shawarma ) takes just a few minutes to stir together and creates an absolute explosion of flavor. It's incredible. I only marinated my chicken in this magical mix for 30 minutes, but the flavor was still loud and clear. Once marinated, you can grill the chicken outdoors over a gas or charcoal flame, or (if you don't have a grill) you can bake it in the oven. Either way, you'll get a super flavorful and moist end product.
I served this with my Lemony Cucumber and Couscous Salad, which was the perfect cold summer side, and incorporated both starches and vegetables into the meal. Two birds with one stone!
Step by Step Photos
First prepare the marinade. Combine the yogurt, olive oil, oregano, minced garlic, salt, and some freshly cracked pepper in a bowl. Add the zest from one lemon and the juice from about half of it (1-2 Tbsp). Stir these ingredients until well combined.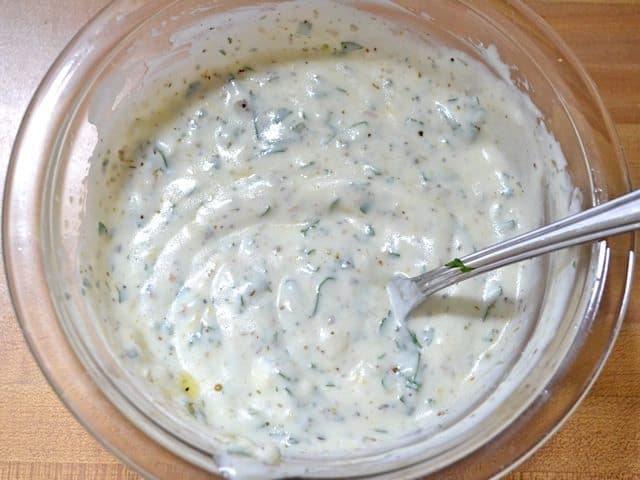 Add a handful, or about 1/4 bunch, of roughly chopped parsley. This is your finished marinade (or a REALLY awesome dip!).
I used about 3.75 pounds of chicken pieces (drumsticks and thighs). You could easily half this recipe, if needed.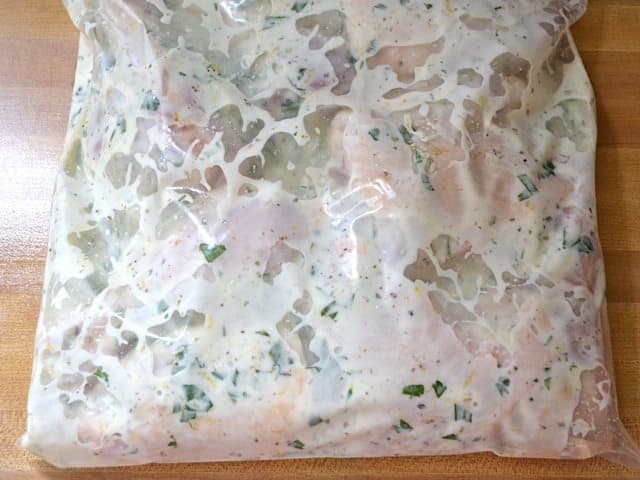 Add the chicken pieces and the marinade to a large, gallon-sized zip top bag and mix it around to make sure the chicken is well coated. Refrigerate the bag for 30 minutes.
After marinating, you can either grill the chicken or bake it. I don't have an outdoor grill, so I decided to bake it. Place the chicken pieces in a large casserole dish. I ended up pouring the extra marinade over top, but later realized that this just made it take longer to brown, so I don't suggest doing so. There is plenty of flavor in the marinade that you won't need to add the extra.
Bake the chicken in a preheated 375 degree oven for 45-60  minutes, or until it is golden brown. It will smell SO good! Now eat!
آیا دلتان می خواهد برای شام غذایی راحت و خوشمزه درست کنید؟ این ماریناد را درست کنید و از طعم خوب آن لذت ببرید
.
این غذای یونانی بیشتر شبیه شاورمای مرغ است، ولی مزه آن عالی است
.
مارینه کردن مرغ
(
خواباندن مرغ در مواد ماریناد
)
فقط نیم ساعت وقت می گیرد، وقتی مرغ آماده شد می توانید آن را روی منقل کباب کنید یا داخل گریل بپزید
.
می توانید آن را با سالاد و خیارشور سرو کنید
. 
مواد لازم: 
•    1 فنجان ماست ساده 
•    2 قاشق غذاخوری روغن زیتون 
•    4 حبه سیر، له شده
•    نیم قاشق غذاخوری آویشن 
•    1 عدد لیموی متوسط
•    نیم قاشق چایخوری نمک
•    فلفل سیاه تازه
•    چند شاخه جعفری تازه
•    چند تکه مرغ
دستور تهیه:
1. برای درست کردن مواد ماریناد، ماست، روغن زیتون، سیر له شده، آویشن، نمک و فلفل سیاه را در کاسه ای مخلوط کنید. با رنده پوست لیمو را ریز ریز رنده کنید و در کاسه بریزید. آب لیمو را نیز بگیرید و در کاسه بریزید. مواد را خوب مخلوط کنید. جعفری ها را کمی خرد کنید و داخل ماریناد بریزید. 

2. تکه های مرغ و ماریناد را داخل یک کیسه زیپ کیپ بریزید، هوای کیسه را در حد امکان بگیرید و زیپ آن را ببندید. حالا خوب مواد و مرغ را با هم مخلوط کنید تا مرغ ها به خوبی به مواد ماریناد آغشته شوند. بگذارید نیم ساعت در یخچال بماند. 
3. نیم ساعت بعد، مرغ ها را کباب کنید یا در فر و در دمای 375 درجه فارنهایت بپزید. 
4. برای پختن مرغ ها در فر می توانید آنها را در سینی فلزی یا پیرکس بریزید و حدود 45 دقیقه تا یک ساعت در فر بپزید تا طلایی شوند. 
5. توجه داشته باشید که این مرغ سیر دارد، اگر طرفدار سیر نیستید می توانید آن را حذف کنید.
http://www.budgetbytes.com/2013/06/greek-marinated-chicken/
back to top