How to Make Pesto like an Italian Grandmother Recipe Featured
If you've ever tasted pesto in Italy you know that the pesto here in the United States just isn't the same. I received a lesson in how to make pesto from a real Italian grandmother last week and now I understand the difference and what makes it so.
My friend Francesca makes the trip from her small town near the pesto-epicenter of Genoa, Italy to San Francisco once or twice a year - this time (lucky for us) she brought her mom and two-year old son Mattia. Her mom makes a beautiful pesto (and perfectly light, potato gnocchi to go along with it) and offered to show me and my friend Jen how it is done. I have to say, I'll never look back, and will never make pesto any other way. If you love pesto, you really have to try this.
Most of the pesto you encounter here in the U.S. is different for a few reasons. First off, most of what you see here is made by machine, usually a food processor or hand blender. This holds true even if it is homemade. Don't get me wrong, it usually tastes good, but because the ingredients aren't hand chopped you end up with an texture that is more like like a moist paste and there little to no definition between ingredients.
During my lesson I quickly began to realize chopping all the ingredients by hand and not blending them is key because this prevents the ingredients from becoming a completely homogenized emulsion or paste. When you dress a pasta with a pesto that has been hand chopped the miniscule flecks of basil will separate from the olive oil in places, you get definition between ingredients, and bright flavors pop in a way they don't when they've been blended into one .
Another thing, Genovese pesto is famous in part because it is often made with young, small basil leaves. For us non-Italians it is easy to find Genovese basil in stores and at farmer's markets particularly in the summer, but chances are it wasn't picked young. I wouldn't worry about it too much, simply by hand chopping all your ingredients, you will see a major shift in personality of your pesto. If you grow your own basil, I'm envious.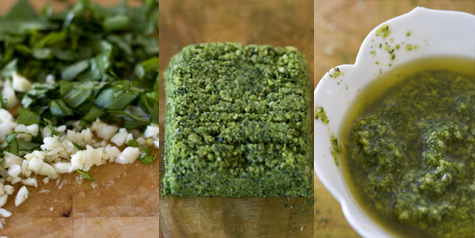 So, if you are serious about making good pesto, get a good, sharp (preferably large, single blade) mezzaluna, you'll need it. Chopping the ingredients will take twenty or thirty minutes. Whatever you use to chop, make sure it has a sharp blade or the basil will turn dark. Let me know if you try this and what you think, I promise to share her potato gnocchi technique in a future post, they were unbelievable. Also, note to self: do a remix of the thousand-layer lasagne with this.
Book signings & sightings!
Huge thanks to all of you who turned out for my book signing on Saturday, I really enjoyed meeting each of you in person! Also, thanks to all of you who have been sending in the names of stores where you've seen my book. Here's a list of places where my book has been sighted, new additions to the list include Books a Million in Oxford Alabama, Pages for All Ages in Champaign Illinois, Moe's Books on Telegraph in Berkeley, and Left Bank Books in St. Louis, Missouri. Please let me know if you see it elsewhere so I can add to the list!
back to top