14 Fitness And Wellness Predictions For 2013 Featured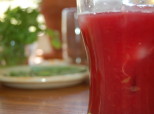 Authors: huffingtonpost fitness
We love this time of year in the media. The recaps. The best-of lists. And our favorite: top trends.
Last year we accurately predicted the rise of food cleanses, fitness nightlife, and better-for-you vacations. (See for yourself.)
For 2013, we came up with these 14 trends by obsessively reporting on the health and fitness scene in NYC—and beyond. We interviewed experts and influencers, but ultimately we followed our gut on what we're all going to be talking about next year.
So what's coming in fitness and wellness? A focus on high-intensity interval training, green juice replacing coffee, a cultural shift in yoga, and a new-found love for facial oils. Check out all 14 trends now...
back to top